"Enabling Flawlessness In Your E-commerce Systems"
To Help You Deliver A Seamless Shopping
Experience To Your Customers.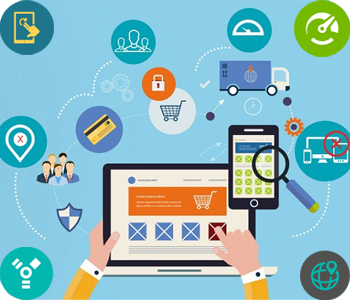 We Leverage Comprehensive Testing Frameworks And Advanced Technologies To Deliver Unparalleled E-commerce Testing Services.
Today, as a majority of retailers are trying to implement the customized E-commerce solutions, quality assurance and validation of E-commerce components and integrated solutions has become a business imperative. We, at KiwiQA offer the best E-commerce application testing services and enable our clients to manage the growing volume of the E-commerce business with higher scalability while enhancing the online shopping experience for customers.
E-commerce has become an integral part of our lives, and these days, numerous people prefer to shop from the E-commerce stores applications. Owing to the great popularity and huge acceptance of E-commerce shopping platforms, every brand wants to sell online and capture the attention of the customers.
The Need For E-commerce Testing
As per Gartner, the digital retail platforms market is expected to grow at an annual growth rate of over 15% from 2015 to 2020. Also, the proliferation of the smart phones and tablets has made it easier for people to use the E-commerce stores and purchase products from anywhere at any time.
As people have started ditching the conventional brick and mortar stores, it has become important for retailers to have an online store in order to sustain viably. But, an online store cannot deliver optimum performance if it has not been tested thoroughly on various aspects, of which usability testing, UX testing, load and performance testing are the most prominent ones.
The E-commerce testing services ensure that the E-commerce application, website or mobile website are performing optimally and as required. The testing plays a significant role in validating that the customers will get a seamless experience while shopping products on the website and will not face any hassles due to any performance glitches.
What We Offer?
We, at KiwiQA offer a wide range of E-commerce testing services, all of which are aimed at establishing that the E-commerce website is ideal for use by customers and does not have any faulty components which can impact the user experience. Our testing services include:
Load and performance testing
Code verification
System automation testing
User experience testing
Sanity Check for E-commerce applications and website
Payment gateway and credit card testing
Surveillance testing
AB testing
Regression testing and addressing defect testing
Security testing
Functional testing
End-to-End E-commerce functionality testing
Multi-device and browser compatibility testing
Analytics, data and backend testing
Order management based testing

e-commerce testing services
Why Choose KiwiQA
Unlike many of our counterparts, we offer domain specific customized testing services and QA solutions based on our testing expertise in E-commerce sector. We facilitate the cost-effective implementations, which speed up our testing and validation cycle, and enable us to serve our clients with faster time to market.
We have a team of seasoned E-commerce testing professionals who possess significant experience in the areas of test optimization including development of comprehensive test frameworks, test automation and the vital non-functional requirements validation which are critical for high quality E-commerce deployments. We also leverage an array of test accelerators which help in reducing the test life cycle whilst enabling us to facilitate faster completion of the test.
We also accentuate on implementing robust security mechanisms to prevent the  security lapses in solutions like the identity theft while ensuring efficient load handling to ensure a seamless shopping experience for customers.
With KiwiQA's unsurpassed E-commerce application testing benefits, get ready to witness millions of app downloads, huge acceptance of your software and excellent reviews. Contact Us Today, if you have any query or want to inquire more about our E-commerce testing services.
Interested In Our Case Study?
Testimonials
Excellent QA Team – very thorough, and provides great feedback on what is being done. Very willing to work in a way that best suited us. Definitely an expert in JMeter, which was exactly what we needed…
The performance & recommendation was achieved .Excellent work for Load and Performance testing using JMETER, on time and well delivered.
KiwiQA is professional testing company and always available for testing all aspects of an application with best tools.
Happy Client Says
It was a very good cooperation. Thanks to KiwiQA Services' excellent reporting and risk assessment, we were able to fix existing vulnerabilities effectively. I'm happy with the quality of their evaluation.
Enrico Mareth
QA Lead at GameForge
They delivered exactly what was promised, which was a full security report for our system.
Malcolm
CEO at allintheloop
We use KiwiQA for our large custom projects. One of our customs sites their normal flow of automation testing was not going to work. They quickly found and implemented a solution. KiwiQA is very detail-oriented and has great communication. They are a pleasure to work with.
Scott Hunley
Devops Manager at CodeClouds
We have been working with KiwiQA for several years and really come to rely upon them. They have a terrific team of people, and I rely on them to do a thorough job.
Ken Murai
CEO at Facilgo
The experience has been very positive and the relationship has grown exponentially. They are willing to put in the time and effort in their communication and quality. This company is highly recommended for developmental purposes.
chris cdamico
Owner at farmd
Thank you for your team's help and support.
Nikunj Mehta
Founder & CEO at Falkorny
Thanks for your services for load testing.
Mark Jagger
Digital Marketing & Ecommerce at Macpac Ltd
Firstly just wanted to say, both Andrew and I are impressed with what you have accomplished in QA, great work.
Peter Leslie
CTO at Nuvola Group,Melbourne
KiwiQA team are at the top of their game in the Software QA space. They are diligent, thorough, prompt and flexible, exactly the kind of support we have always needed. I would highly recommend KiwiQA to any organisation needing software QA and testing support.
Amanda Rodgers
Founder,Board Director at WK Digital,Brisbane
I have worked with KiwiQA few times for Web and Mobile app performance testing and they have always delivered as per our expectations. I would recommend their services to whoever is looking for right QA partner for their tech projects.
Kartik Donga
Director-Business & Technologies at Communication Crafts, India
When it comes to outsourced testing, this is the team I will go again and again. Ability to hunt down all the defects, no matter how obscure.Having a thorough defect report significantly increases the resolution speed.
Natalie Haigh
Director & Digital Delivery Manager at Mercury 1,UK
Excellent QA Team – very thorough, and provides great feedback on what is being done. Very willing to work in a way that best suited us. Definitely an expert in JMeter, which was exactly what we needed…
Julian Cole
Owner at Dipolar Pty Limited, Australia
I hired KQSPL team for an initial review of a website across different/browsers and operating systems. Very quick response, and professional outcome. We are considering them our QA partner
Simon Doukas
CEO-Founder at Lodie,Australia
KiwiQA has provided us the quality assurance testing that SimpleTix needed. Today we can ensure we are shipping out each release bug free. SimpleTix plans to grow 10X this year and we're glad to have KiwiQA with us.
Aron Kansal
CEO at Simpletix,USA
I appreciate your Good work on NetSafeLite project. All the reports and details were impressive for various mobile device testing. Please continue the same.
Deepali Upadhye
QA Lead at Enstage,India
Reviewed the load testing results and they look very positive and promising. Thanks for the good work.
Costas
IT Operations Manager at Bernhard Schulte Shipmanagement,Cyprus
I have used KiwiQA for several projects from enterprise up-to personal, They tested my software with their professional hands which make my software & websites become more pro and excel.
Thank you KiwiQA
Yacobus Reinhart
Engineering Technologist at ZipGo,Indonesia
Congratulations to everyone in KiwiQA team who has worked hard to bring our "The Legend of Viraz" developed Game product in market with sustainable QA.Everyone in KiwiQA deserves to be very proud of the excellent solution in Game QA and Testing work and the way that the team has pulled together to get game Bug Free. Well Done!!.
Abhinav Chokhavatia
Director at Zatun Pvt Ltd, India
We are very pleased with our ongoing business relationship with KiwiQA Testing Services Division. KiwiQA has a localization team that has proved invaluable to us.
Ankur Patel
Director at Orange Web Technology, India
The performance & recommendation was achieved .Excellent work for Load and Performance testing using JMETER, on time and well delivered.
Jelwi
CEO at 10Soft, Riyadh
KiwiQA is professional testing company and always available for testing all aspects of an application with best tools.
Thomas Krotkine
CEO at Inspheris, Paris
KiwiQA did a phenomenal job for us. We used them for manual testing and test automation(selenium). They excelled at both because unlike other shops they just focus on QA – that's their core ! They are fun to work with and are comfortable working across timezones. I would recommend KiwiQA for big and small orginzations alike.
Tabrez Shaikh
CTO at ReelGenie, USA
Are You Ready for Outsourcing your Software Testing requirements?