Over the past few decades, online shopping on e-commerce websites has become progressively more popular worldwide. The increasing rate of internet usage has significantly brought the revolution of trade transactions. Current e-commerce statistics state that 40% of global internet users have procured goods or products online via tablet, desktop, mobile, or other online devices. This results in more than 1 billion online buyers and is anticipated to constantly grow.
A 2018 recent survey of 2,500 respondents conducted by Periscope revealed that more customers are shopping for daily items online. However, modern digital shoppers can immediately turn off by poor UI/ UX (user experience). A poor-quality e-commerce service results in unhappy clients, which can spoil brand reputation and bring low revenue. This is partly why the e-commerce testing of a website is crucial prior to launch. With effective and reliable E-commerce Testing Services we can ensure that the website continues to deliver great performance and keeps its users happy.
Simply put, the success of any business is extremely dependent on ensuring that your platform is bug-free and secure.
Let's have a look at Statista- E-commerce Worldwide Market Insights Highlights
Revenue in the e-commerce market is estimated to hit USD 2,411,638m in the year 2020. Whereas returns is projected an annual growth rate (CAGR 2020 to 2024) of 8.2 percent, that results in estimated market volume of USD 3,299,490m by the year 2024.
The largest segment of e-commerce markets is Fashion with an estimated market volume hit by USD 664,474m in this year. Consumer penetration will augment by 46.6 percent in 2020 and is projected to reach 60.3 percent by 2024.
Well, if we can see how much are people across the globe actually spending online? As per Statista's Digital Market Outlook, the USA is not just dominating in terms of total e-commerce returns, however, also amid the nations with great revenue per online shopper.
In the year 2019, retail e-commerce sales globally amounted to $53 trillion and e-retail returns or profits are estimated to jump to $6.54 trillion in the year 2022. Online shopping is the most demanding and well-admired online activities across the globe.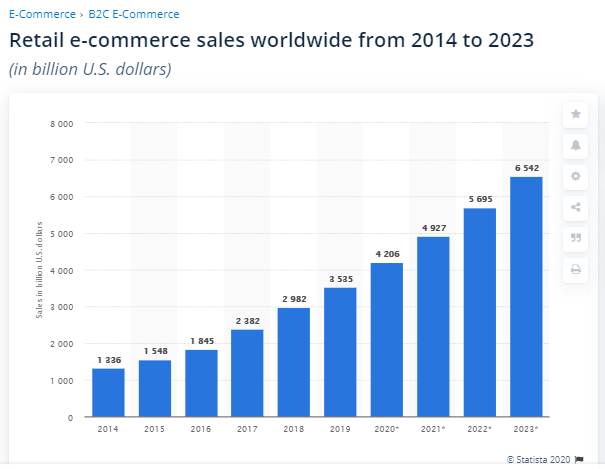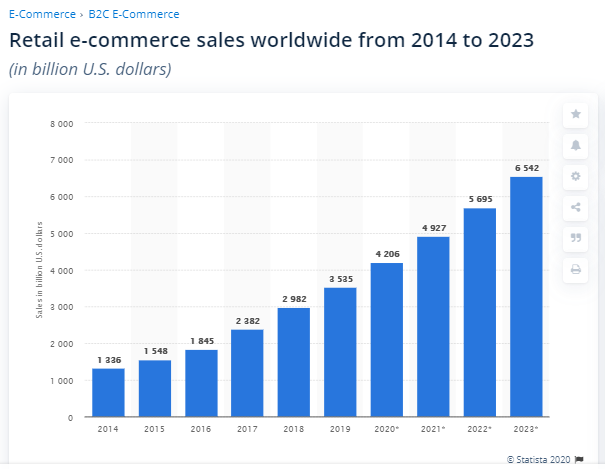 No. of digital buyers globally from 2014 to 2021(in billions)-It is expected in the year 2019, there are 1.92 billiondigital buyers, & eCommerce sales account for 14.1 percent retail purchases globally. More than 2.14 billion global digital buyers are expected to purchase goods and services on the web globally by 2021, up from 1.66 people 2016.


Seven Effective E-commerce Website Testing Techniques
Just like website development, e-commerce website testing demands the tester's proper attention. Some of the common techniques followed by E-commerce Testing Company for testing a website are as mentioned below:
1. Testing the Compatibility & Functionality Against Load
Every organization should ensure that the functionality provided in their websites is working properly at varied load conditions; whether the website is supporting different platforms and browsers or not.  E-commerce website tests will guarantee better functionality as well as compatibility of the site in heavy loads.
2. Mobile Responsiveness Testing
These days, mobile gadgets are taking over desktop platforms concerning internet usage and the majority of enterprises are taking a mobile-first approach in their store apps. Testing the responsive design of the app in mobile phones of varied screen sizes guarantees the responsiveness and satisfaction of the end-users.
3. Testing Security Vulnerabilities
Security testing of e-commerce website counts vulnerability assessment and penetration testing, vulnerability scanning, etc. The website will be tested against spam mails, cyber or phishing attacks, malware, and other online security threats. The security of any website is always significant before its launching and it should be subject to regular tests to tackle security vulnerabilities.
4. Data Backing & Recovery Tests
E-commerce businesses mainly run on account of data accessibility. Hence, data back-up and recovery is significant to ensure that there is no threat of data loss. In case of any sort of loss of information and data, there must be a possibility to recover the same. The threat of backing failure shouldn't subsist in case of e-commerce site.
5. Regression Testing to Control The Risk Of Changes
Any modification in an e-commerce website is crucial to make the customer experience smoother and faster. Regression testing is employed to ensure that the integration of new changes does not impact the website's performance and ensures zero bugs or glitches to occur.
6. Testing The Readiness Of Transactions
E-commerce website testing is important to guarantee that every single page is well-tested and is validated to complete all the transactions easily. It will also scrutinize and thoroughly check whether it is set for consumer use or not.
7. Testing the Performance of Shopping Cart Features
Testing the performance of shopping cart features of e-commerce websites is a significant aspect. Testing an e-commerce website, verifies the performance of order processing and payment, tracking order, shopping cart in terms of removing or adding the items, etc.
Best Tools to Test E-commerce Website


Wrapping Up
As someone said "Your most unhappy consumers are your greatest source of learning," So, performance issues with e-commerce solutions usually bring unhappy customers and lost sales opportunities and revenue. Hiring an expert E-commerce Testing Company can easily overcome difficult challenges and risks associated with e-commerce website quality.