Cloud storage and cloud computing have generated crucial interest and great exposure across the globe. At present, every single organization needs cloud services to perk up their everyday business deed. Cloud computing changes the approach in which we consider data, business operations, and the manner in which engineers think about building. In fact, the worldwide leader in IT and networking like Cisco forecasts that by 2021, cloud data centers will process so far as 94% of all workloads. Now, what is cloud computing? Why do key business players claim that cloud-based services are a game-changer?
Cloud computing is not a mere model for delivering IT services. It is actually a strategic decision that a business requires to take to expand its offerings, reduce management expenses, and focus on its core capabilities. Cloud Computing has mainly created liberty and opportunity for the new as well as existing enterprises to do better than their best!!
What Current Stats Say?
According to Gartner, half of the enterprises globally using cloud-based technology will now have gone all-in on it by the year 2021. Gartner also demonstrated that global expense on cloud services will jump from $219.6bn to $260bn this year. It's also growing at a rapid rate than the analysts anticipated.

According to IDC forecasted that cloud expense in India on public infrastructure and cloud services will reach around $2.9 billion in 2019, a boost of 34.5 % over 2018.

Even Vice President Analyst, Gartner, Gregor Petri, stated "CIOs seems to prepare their company to thrive in the upcoming turns should take a distinctive approach to cloud computing," "It is important for chief information officers to prepare a general strategy that aids to place particular or specific cloud verdicts in the context of the enterprise's strategic aims."

The eminent cloud service providers will have a distributed ATM-like existence by 2023, to offer a subset of their services.  A vast number of companies expect to augment cloud computing usage due to COVID-19.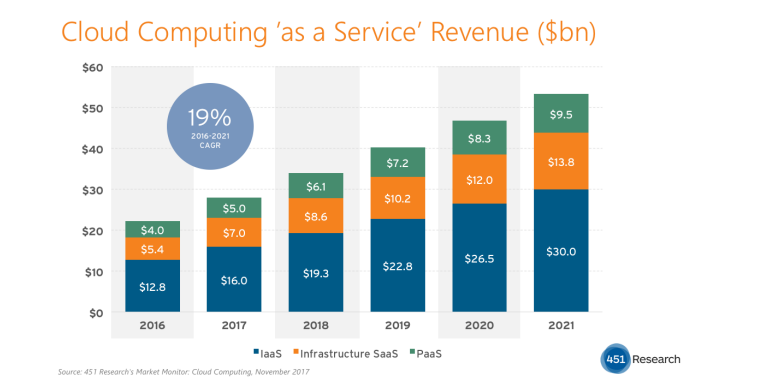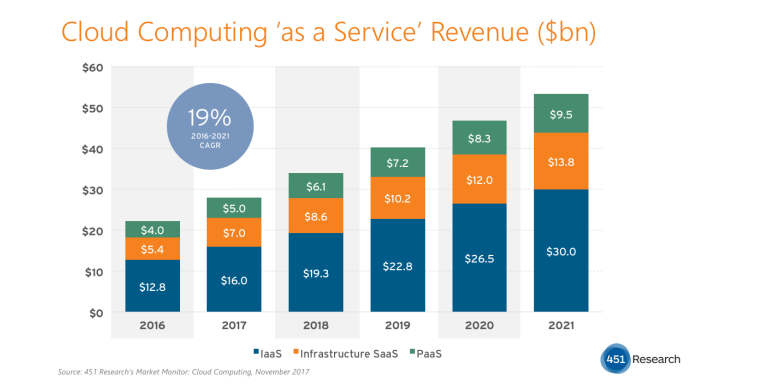 With the ever-growing usage of cloud computing, enterprise embracing of Azure keep on drawing closer to leader AWS. Google Cloud adoption also rises up exponentially to narrow the gap with Azure. Acceptance and approval of PaaS (Platform-as-a-services) from cloud providers continue to jump up with CaaS (container-as-a-service) now attain next place behind DaaS (database-as-a-service).
6 Emerging Cloud Computing Trends for 2020
Let's have a glance at some of the top cloud computing trends in 2020:
1. The Popularity of ML and AI with Cloud Computing
Organizations are growing from consumer-facing AI apps into a comprehensive, enterprise-wide, 360-degree AI approach. This, in turn, increases the demand for hybrid, cloud, and on-premise systems to have safe and scalable distributed AI technologies. Innovations in Artificial Intelligence are giving enterprises the opportunity to automate and manage their procedures with improved accuracy and speed.
Similarly, core competencies within Artificial Intelligence, ML, system recognition, and clever robotics are giving companies the possibility to scale up and handle big data in a more effective way possible. Leveraging Machine Learning and Artificial Intelligence with Cloud Computing is reliable and cost-effective. It also amplifies overall productivity. The current survey revealed that approx. 67% of IT professionals consider that ML and Artificial Intelligence will be the influencers of cloud computing implementation by the year 2020.


2. Omni-Cloud in place of Multiple-Cloud
Making use of multiple-cloud services in a heterogeneous structure is a very traditional method. As increasingly enterprises have started altering to multi IaaS (Infrastructure-as-a-Service) providers, the succeeding demands crop up:
Application portability
Well-organized connectivity in data integration platforms
Easy acquirement of compute cycles in real-time
Vendors from Cross-platform alliances
Thus, multi-cloud is renovating more into Omni-cloud with the structural design becoming homogenous. For example, if an organization has a gazillion businesses beneath its hood, adoption of Omni-cloud services could give it a sharper competitive advantage.
Such companies can directly obtain cloud services from niche providers and hyperscalers, hence leveraging the benefits given by differentiated services, lacking any vendor lock-up or higher switching expenditure.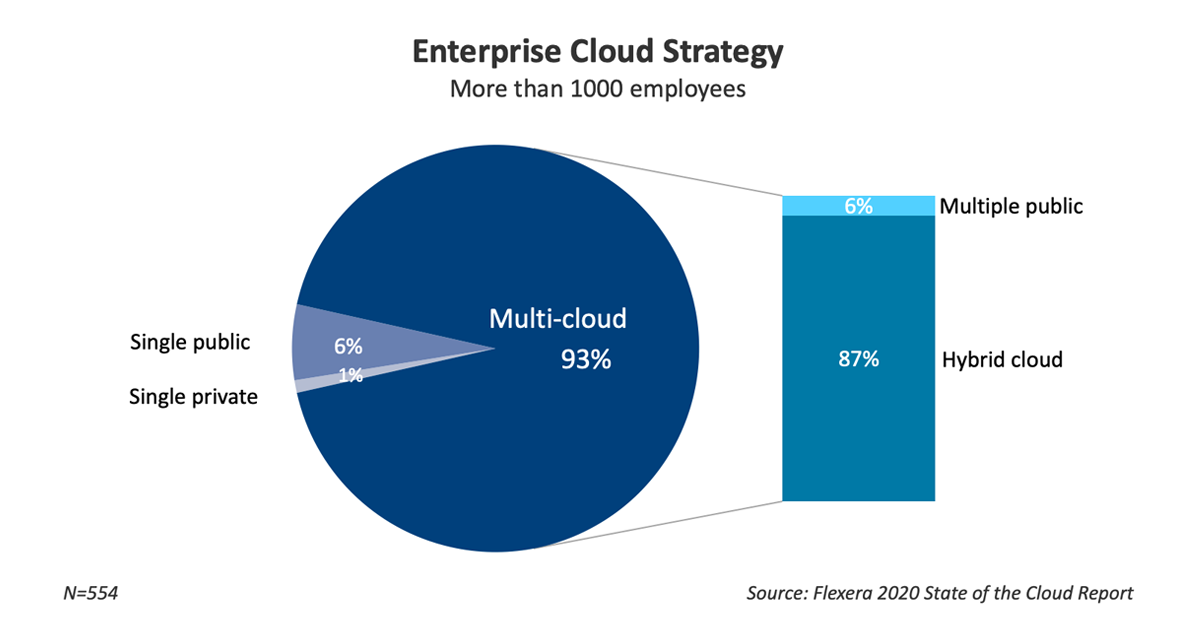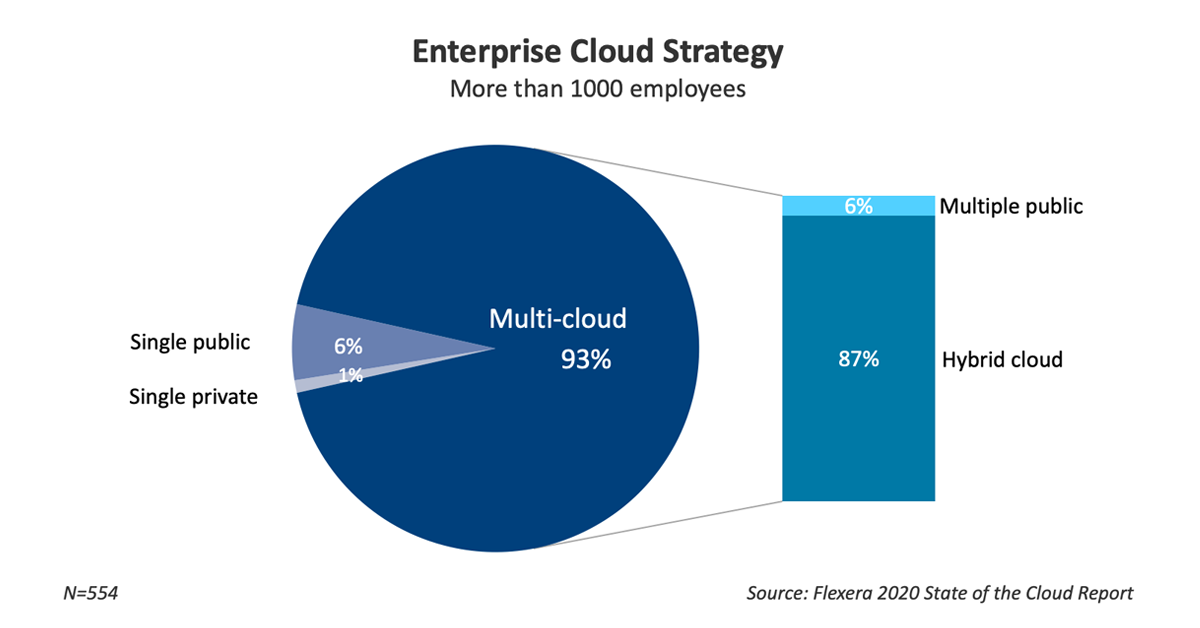 The Hearst Corporation, which has 360 or more individual companies, shows a great example of future trends to come.
3. Mobile Cloud Computing As An Upcoming Cloud Trend
Mobile Cloud is the amalgamation of mobile & cloud computing that will bring rich computational resources to cloud service providers, network operators, etc. Mobile Cloud Computing enables the implementation of rich mobile apps on myriads of mobile devices, with good user experience. It gives better business opportunities for cloud providers and mobile network operators.
This latest innovation will continue to grow throughout 2020 and will facilitate quality mobile apps to work across a plethora of mobile devices with a great focus on user experience. As per the recent survey of Verto Analytics, mobile clouds reached a value of 30.71 billion USD and are likely to attain 118.70 billion by 2025. Certainly, through a blend of wireless networks, cloud computing, and mobile computing, it can form an unending impression on users.
4. Quantum Computing
Quantum computing is the most modern technology to catch the eyes of cloud providers and developers. There is no doubt that in the upcoming years there will be an improvement in the computer's performance. This is only likely as a result of hardware improvement through quantum computing. As innovation continuously progresses, so does the requirement to build efficiency and computational capability to fulfill future desires.
Quantum computing will empower servers and computers to process data at a rapid rate compared with existing benchmarks. As the base of cloud computing is rooted in fast network systems that do get multiplied, the cloud will play a significant role in expanding computing performance. Microsoft, AWS, and other IaaS service providers have moved on to quantum computing bandwagon in order to get ahead of the competition. So, the fortune of cloud computing in 2020 is going to amaze us.


5. Containerization in Cloud Computing
Containerization is incredible and has remained in a buzz trend in Cloud-based solutions over the past few years. Enterprises utilize and improve the same to simplify portability between cloud services from Google Cloud, AWS, and Microsoft Azure. This guarantees rapid software production using DevOps strategies. Forrester even expects cloud application development services, counting container services, to become the ideal platform for app development, as per its public cloud market outlook, 2019 to 2022. Also, as per 451 Research, the market for Containerization will develop at an annual rate of 40 percent and attain $2.7 by 2020. Moreover, Cloud Foundry states 53 percent of enterprises will utilize or at least scrutinize using containers in development.
6. Cloud Testing (TaaS)
Moving to a test to the cloud is more lucrative for any organization. Software Testing demands a real-life situation that has to be changed for each new project. Testing necessitates a huge upfront expense in terms of personnel and hardware when done in- house. Cloud Testing (TaaS) takes such responsibility of not-core-business doings at the least possible rate.
Cloud Tests allow running as many tests in parallel as possible. The capability of the test infrastructure is virtually vast in TaaS, which later increases speed. TaaS(Testing as a service) as a model imparts the massive flexibility for a company.
By working with KiwiQA, you just pay for a specific unit of testing rather than spending loads of money on hosting the whole in-house Testing team. KiwiQA has a well-established framework to deliver enterprise-centric testing. What else you can get when partnering with KiwiQA:
Flexible Test Assets and Test Execution
Deliver product in time through rapid project set-up, and execution
The increased customer satisfaction rate
Reduce, investments, maintenance costs, and operational costs
Ensured reliability on your product
Proper synchronizing people, tools, and processes
You're out of errors & bugs
Business optimization
Reduced costs = Fast ROI- You save 40-50% on Services and Tools
Adopting the emerging cloud computing technologies may sound intricate. However, considering all the rewards of TaaS (Cloud testing) and your client's satisfaction, advanced test clouds also allows the record videos of tests. This is tremendously beneficial when there is a call for troubleshooting a test or gain deep insight.


Final Verdict
In this Modern era, this cloud-based technology has turned out as "big bang" in the industry. The majority of businesses are now moving towards this emerging technology adoption because of their traits like scalability, flexibility, and reduced costs.
Using TaaS (the cloud for testing) is actively supporting premier enterprises to get hold of the vital tools, infrastructures, and software licenses, at a very low price.
How about scheduling a personalized demo just for you? Connect with KiwiQA Team Now!!