We are a world-class application testing firm based in Sydney, Australia. At KiwiQA Services, we have a young, energetic team, we have a great company culture, and we have the tenacity to successfully execute any project that comes our way. Our success has not gone unnoticed: Clutch has recently recognized KiwiQA as one of the top software testing firms in the platform's 2019 research!
Clutch is a B2B ratings and reviews firm based in Washington DC. They are committed to connecting small, medium, and large businesses with IT solutions & service providers that will help them overcome their business hurdles. Their rankings system operates under a unique methodology that measures companies for their technical capability, market presence, and client feedback. We are proud and excited to share that we've received our first client review on our Clutch profile. Check it out: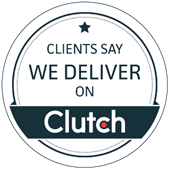 In addition to our achievements on Clutch, we are also recognized as a top software testing company by The Manifest, which is a business news and how-to website that provides industry reports and other metrics to assist buyers in their search for world-class service providers. Moreover, for more examples of our work, our portfolio is displayed on Visual Objects within their listing of the best software development companies in 2019.
Niranjan Limbachiya, CEO of KiwiQA added Since partnering with Clutch and building our presence on these third-party reviews sites, KiwiQA Services has already been reaping the benefits of improving our online reputation. We've gotten incredible feedback from our clients, we can see now where we stand amongst our competitors, and most of all we get to reflect on how far we've come as a team. Here's to seeing what else the new year brings!
Searching for a quote for software testing and quality assurance services? Contact KiwiQA today!