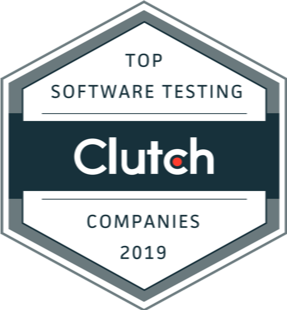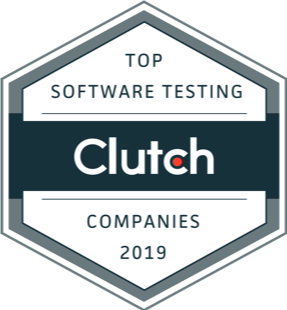 Here at KiwiQA, we base our software testing services around quality and knowledge. Over the last few years, we have been able to offer a wide range of testing solutions and services across several different industries that have resulted in success for our clients. This has been recognized by Clutch.co as we have been identified as one of the top software testing companies in the industry!
B2B ratings and reviews firm, Clutch, is dedicated to connecting businesses with the best agency to undertake their exact needs. They examine firms based on their expertise, portfolio of work, and their ability to deliver top-notch products for their clients. Through their independent method, Clutch analysts spoke directly with our clients to obtain a strong perception of our team's unmatched strength in testing services and consultation. Beneath, is one of the many client reviews they have gathered, providing potential clients with a quick glance at a client's experience with us on a project.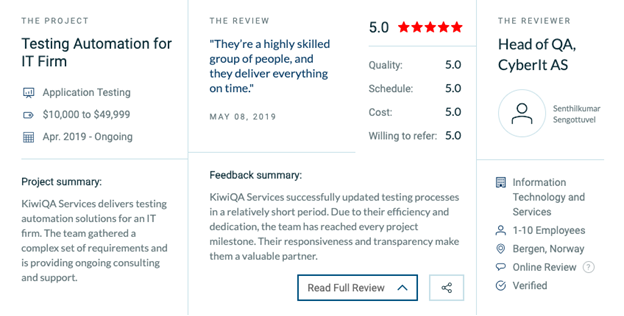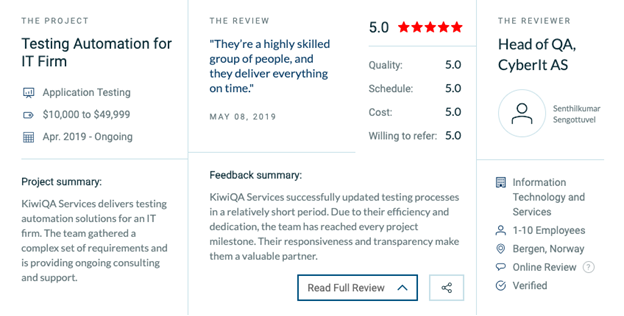 As well as being named on Clutch, our success extends to the firm's sister-sites: The Manifest and Visual Objects. The Manifest distributes industry reports and how-to guides to help businesses simplify the search for their next partner. Here, we are listed with other premier software testing services. Likewise, Visual Objects is designed to help prospective clients as it shares the portfolios of software development companies and creative firms alike so that they may visualize a future project.
Since establishing in 2009, our talented team has kept ahead of all the latest developments in the field of testing so that our clients are given the best possible results. We are greatly appreciative of the time they took to share their experiences with us to Clutch. Without the positive feedback from our clients, we wouldn't have received this honorable recognition, let alone be where we are today.